Swiss Double-Cheese Souffles
Serves 6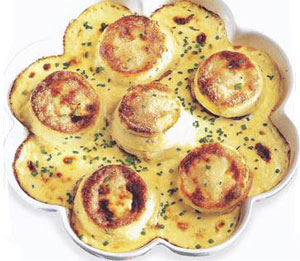 3 tbsp butter, plus extra for greasing
1/3 cup (45 g) all-purpose flour
1 1/4 cups (300 ml) milk
1/2 cup (60 g) grated Gruyere cheese
2 tbsp snipped fresh chives
salt and black pepper
3 eggs, separated
2/3 cup (60 g) grated Parmesan cheese
1 1/4 cups (300 ml) heavy cream
snipped fresh chives to garnish
STEPS :
Melt the butter in a large saucepan, add the flour, and cook, stirring, for 1 minute. Remove from the heat and gradually blend in the milk. Return to the heat and bring to a boil, stirring until the mixture thickens.
Remove the pan from the heat and beat in the Gruyere cheese and chives. Add salt and pepper to taste and stir in the egg yolks.
Whisk the egg whites until stiff but not dry. Stir 1 tbsp into the mixture, then fold in the rest.
Generously butter 6 small ramekins and divide the mixture equally among them. Place the ramekins in a small roasting pan, and pour boiling water into the pan to come halfway up the sides of the ramekins.
Bake the souffles in a 425癋 (220癈) oven for 15-20 minutes, until golden and springy to the touch. Leave the souffles to stand for 5-10 minutes; they will shrink by about one-third.
Butter a large shallow gratin dish. Sprinkle half of the Parmesan cheese over the bottom. Run a narrow spatula around the edge of each souffle, unmold carefully, and arrange on top of the Parmesan in the gratin dish.
Season the cream with salt and pepper and pour over the souffles. Sprinkle the remaining Parmesan over the top and return to the oven for 15-20 minutes, until golden. Garnish with snipped chives.