Garlic & Goat Cheese Souffles
Serves 6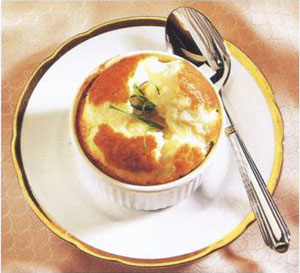 1 head of garlic
1 cup (250 ml) milk
1/2 cup (125 ml) water
2 tbsp butter, plus extra for greasing
2 tbsp all-purpose flour
5 oz (150 g) goat cheese, diced
6 eggs, separated
salt and black pepper to taste
fresh chives to garnish
* 62/3-CUP (150-ml) souffle dishes
STEPS :
Separate and peel the garlic cloves. Put the milk, measured water, and all but one of the garlic cloves into a saucepan. Bring to a boil, then simmer for 15-20 minutes, until the garlic is tender and the liquid has reduced to 1 cup (250 ml). Leave to cool. Lightly mash the garlic in the milk.
Melt the butter in a saucepan, add the flour, and cook, stirring, for 1 minute. Remove from the heat and gradually blend in the garlic milk.
Return to the heat and bring to a boil, stirring constantly, until the mixture thickens. Simmer for 2-3 minutes. Transfer to a large bowl and leave to cool for 10 minutes. Chop the remaining garlic clove.
Add the chopped garlic, diced goat cheese, egg yolks, and salt and pepper to taste to the cooled sauce.
In a large bowl, whisk the egg whites until stiff but not dry. Stir 1 tbsp of the egg whites into the garlic and cheese mixture, then fold in the remaining egg whites.
Lightly butter the souffle dishes, pour in the souffle mixture, and bake in a 350癋 (l80癈) oven for 15-20 minutes. Serve immediately, garnished with chives.