Zucchini Frittata
Serves 4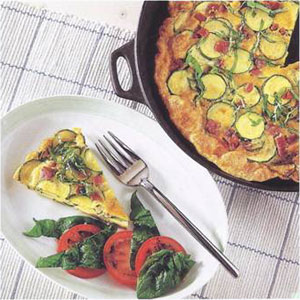 2 tbsp olive oil
4 1/3 cups (625 g) thinly sliced zucchini
6 eggs
salt and black pepper
2 oz (60 g) prosciutto, diced shredded fresh basil to garnish
STEPS :
Heat the olive oil in a large skillet. Add the zucchini and cook gently for 5 minutes or until just tender.
Break the eggs into a bowl, add salt and pepper to taste, and beat with a fork.
Add the prosciutto to the zucchini in the skillet, then pour over the eggs. Cook over medium heat for about 10 minutes. As the eggs set, lift the frittata with a spatula and tilt the pan to allow the uncooked egg to run underneath. Continue until almost set and the underside is golden brown.
Place the skillet under the broiler, 4 in 00 em) from the heat, for 1-2 minutes, until the top is a light golden brown color and the egg is cooked through and quite firm when pressed.
Cut the zucchini frittata into wedges and lightly garnish with shredded fresh basil. Delicious served both hot or cold.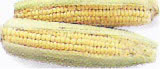 CORN & PEPPER FRITTATA
Substitute 1 red pepper, cut into strips, 70z (200 g) canned corn kernels, and 3 chopped scallions for the zucchini and prosciutto. Cook the pepper strips for 3 minutes, add the corn and scallions, and cook for 1 minute. Remove with a slotted spoon and proceed as directed.