Spinach & Mushroom Frittata
Serves 2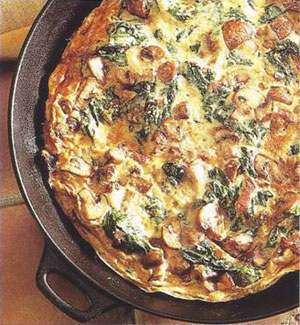 3 tbsp olive oil
2 thick slices of smoked bacon, diced
1/2 lb (250 g) cremini mushrooms, quartered
4 cups (125 g) spinach leaves, coarsely chopped
6 eggs
salt and black pepper
2 tbsp grated Parmesan cheese
STEPS :
Heat the oil in a large skillet. Add the bacon and mushrooms and cook over high heat, stirring constantly, for 7 minutes or until the bacon is crisp. Add the chopped spinach and turn in the oil for just 1-2 minutes. Do not allow the spinach to wilt. Lower the heat.
Break the eggs into a bowl, add salt and pepper to taste, and beat with a fork.
Pour the eggs over the mushroom and spinach mixture and cook over medium heat for about 10 minutes. As the eggs set, lift the frittata with a spatula and tilt the pan to allow the uncooked egg to run underneath.
When the eggs are set, sprinkle with grated Parmesan and place the pan under the broiler, 4 in (10 cm) from the heat, for 1-2 minutes until the top is golden brown and firm when pressed. Serve at once, cut in half.
Frittata
This is an Italian omelet. Unlike the classic French omelet, it is first cooked in a pan until set, then it is put under the broiler until firm. A frittata is always served flat rather than folded over.