Stuffed Squid
Serves 4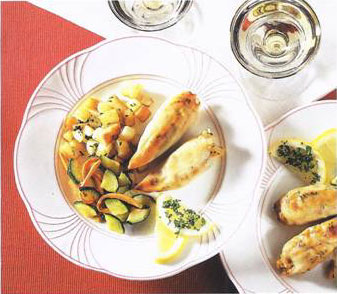 3 tbsp olive oil
1 onion, chopped
3-4 garlic cloves, crushed
8 small squid, cleaned
1 cup (60 g) fresh bread crumbs
1/4 cup (90 ml) tomato juice
2 tsp chopped fresh rosemary
10 pitted black olives, sliced
2 tbsp chopped parsley
1 egg, lightly beaten
2 tsp balsamic or red wine vinegar
salt and black pepper
cayenne pepper
lemon slices and chopped parsley to garnish
STEPS :
Make the stuffing: heat 2 tbsp of the oil in a saucepan, add the onion and garlic, and cook gently, stirring occasionally, for 3-5 minutes, until the onion is soft but not browned.
Chop the squid tentacles very finely. Add them to the pan and cook, stirring, for 2 minutes, then add the bread crumbs, tomato juice, and chopped rosemary and stir well.
Remove the pan from the heat and stir in the olives, parsley, beaten egg, and vinegar. Add salt, pepper, and cayenne pepper to taste. Mix well to combine. Fill the squid with the stuffing and seal the tops.
Arrange the squid in an ovenproof dish, sprinkle them with the remaining oil, and season with salt and pepper. Bake in a 425癋 (220癈) oven for about 20 minutes, until the squid and filling are quite firm to the touch. Garnish the squid with the lemon slices and parsley, and serve immediately.

Sealing the squid
Thread a toothpick carefully through the top of each stuffed squid to seal the opening.