Beat the grated zest of 1/2 lemon into I/4lb (125 g) softened butter, using a fork. Slowly add the juice oj 1/2 lemon, beating between additions. Add salt and pepper to taste.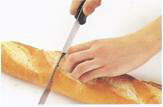 Cut 1 baguette into 1/2-in (I-cm) slices, leaving the slices attached at the bottom.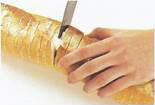 Spread the butter over the. slices and a little over the top. Wrap in foil and bake in a 400癋 (200癈) oven for 20 minutes, opening the foil for the last 5 minutes to crisp the top.