Scallops With Asparagus & Lemon
Serves 4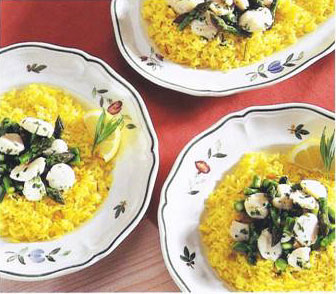 1 lb (500 g) baby asparagus
3 tbsp butter
3-4 garlic claDes, crushed
11/2lb (750 g) scallops, sliced if large
juice of 1 lemon
11/2 tbsp finely chopped parsley
11/2 tbsp chopped fresh tarragon
salt and black pepper
STEPS :
Steam the asparagus for 3 minutes or until just tender. Chop and set aside.
Melt half of the butter in a pan, add the garlic, and cook for 1 minute. Add the scallops and cook, stirring, for 1 minute or until opaque and firm to the touch. Add the asparagus and cook for 3 minutes. Remove with a slotted spoon and keep warm.
Add the remaining butter to the pan with the lemon juice, parsley, and tarragon, and season to taste. Cook, stirring, until the butter melts. Pour the sauce over the scallops and asparagus and serve immediately.
SCALLOPS WITH LIME

Substitute lime juice for the lemon juice and equal quantities of chopped fresh cilantro and mint for the parsley and tarragon. To seroe as an appetizer, simply omit the asparagus, and proceed as directed in the recipe.
SOFT-SHELL CRABS WITH LEMON

Omit the asparagus and substitute 4 soft-shell crabs for the scallops. Dip into seasoned flour. Melt 4 tbsp butter in a large skillet, then cook the crabs for 4 minutes on each side. Remoue from the pan with a slotted spoon and make the sauce as directed.