Fish En Papillote
Serves 4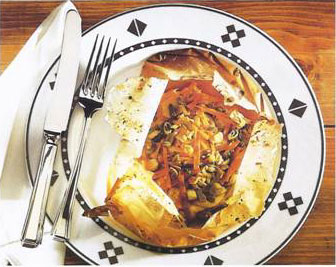 3 tbsp butter
4 8-oz (250-g) whitefish fillets, such as sole or grouper, skinned
3/4-in (2-cm) piece of fresh ginger, peeled and thinly sliced
3 scallions, thinly sliced
2-3 garlic cloves, crushed
2 tbsp light soy sauce
1 tbsp rice wine or dry sherry
1/2 tsp sugar
* 4 sheets of baking parchment
STEPS :
Cut the sheets of baking parchment into four 12- x IS-in (30- x 37-cm) rectangles, and cut out 4 hearts.
Melt 2 tbsp of the butter in a small saucepan. Brush the paper hearts and 2 large baking sheets with the butter.
Place a fish fillet on one half of each heart. Top each one with ginger, scallions, and garlic and dot with the remaining butter. Whisk together the soy sauce, rice wine, and sugar and drizzle over the fish. Fold the paper over the fish, pleat the edges, and twist the pointed ends to seal.
Put the paper cases onto the prepared baking sheets and bake the fish in a 4S0癋 (230癈) oven for 8-10 minutes, until the paper has turned brown and the cases have puffed up.
With a spatula, transfer the paper cases to warmed individual plates and serve immediately.
Cutting a paper heart

Fold a baking parchment rectangle in half and draw a curve to make a heart when unfolded.

Cut out the heart shape just inside the penciled line, and unfold.